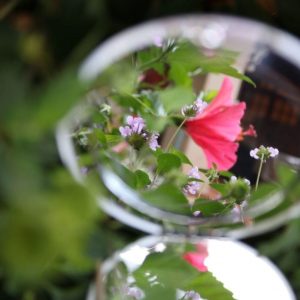 Karen Wolmarans is the owner and manager of Karen se Kruie – Herbs for Health.
Karen is registered as an Ethnomedicine Practitioner ~ Traditional Doctor at EPASA. (DEM090200973, EPASA)
She studied Town and Regional Planning at the University of Pretoria and was awarded her degree at the end of 1994.
Karen was resident in Ouagadougou, Burkina Faso and Bamako, Mali (West Africa) from January 1996 until April 1998.
After returning to Centurion, South Africa, she established a graphical design, low volume, and high-quality printing business, called Print Expression. She still does logo design on request, although her time is limited by her love for herbs.
This love for herbs started off with the inclusion of fresh garden herbs as part of daily cooking and food preparation. And what an awesome way to start off with!
As time went by, their medicinal value as natural healers became more and more apparent and they became an invaluable part of her everyday lifestyle – a way to maintain and constantly improve health.
After intensive study of medicinal qualities of herbs by herself, she enrolled for a Diploma course at the Institute of Natural Healing (now the Blackford Institute) – an international institute with its headquarters in England. She also studied the effects of herbal remedies on different systems of the body at an institute called HONERI.
After fully grasping the overwhelming potential of herbs as natural healing agents, and personal transition from the use of conventional medicine to the use of herbal remedies, she decided to also assist others in achieving a well-balanced, healthy lifestyle through the use of herbs.
This led to the establishment of Karen se Kruie – Herbs for Health in January 1996.
Today Karen se Kruie – Herbs for Health is a well-known and established practice, offering quality products and relevant advice on the medicinal, cosmetic, culinary & aromatic use of herbs & herbal products.